Scroll down for meal images and details
Meal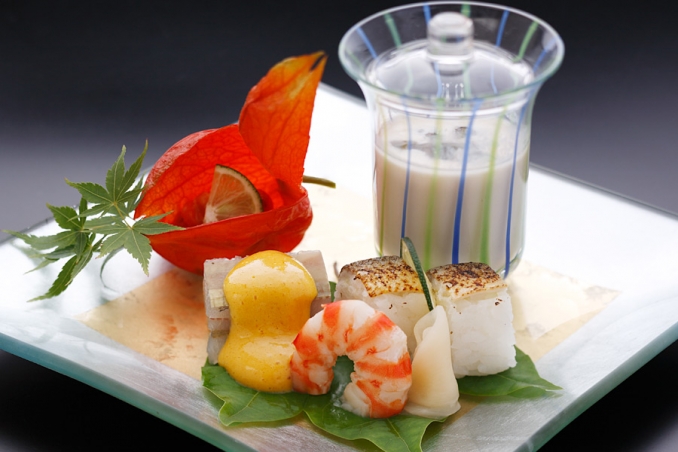 The delicious fishes "Ayu", "Yamame" and "Fugu" are specialty of Japan.Please taste them.

*"Ayu" is served from June to September.
*"Yamame" is served from October to may.
*"Fugu" is served in winter only (advance order).
Images are of a typical dinner course.
Menu may vary due to season and availability.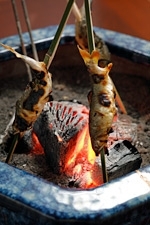 Dinner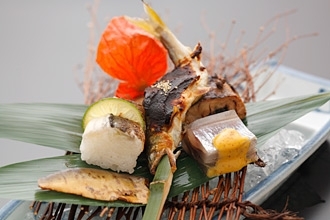 [Menu] Japanese style
Hors d'oeuvre, Sashimi (sliced raw fish), Boiled fish and vegetable, Baked fish, Tempura, Vinegared dish, Soup, Rice, Dessert etc.

*A photograph is an example of a standard dish.
*The contents change with the season of foods, arrival-of-goods situations, etc. Please understand the situation beforehand.
Information Shiratame Ryokan
[Accommodation] for 30 guests
[Number of rooms] 10
[Hotel Rate(with breakfast and dinner)] 17,250 yen -
[Location] From the JR Iwakuni sta., 15 min. by bus
Check in 4:00 p.m. Check out 10:00 a.mm


- Shiratame Ryokan -

1-5-16 Iwakuni-shi, Iwakuni, Yamaguchi, Japan
TEL 0827-41-0074
All services are only provided for user this Home Page, so please send "E-mail Form for Reservation" or e-mail to make a reservation.

Top